It happens to me every year right about this time.
The sobering August moment when you realize that summer's promises and breezy schedules are flitting away.
Like a retracted New Year's resolution. Ephemera on a mission.
So many lattes went unsavored in all of those lost plans.
"
We'll do it in the summer after we drop the kids off at camp."
I never did meet that other mom as we intended. Back in March.
So many unspoken, juicy conversations. Adrift in summer's disengaging haze.
When the hell did it become August?
Did the cicadas even show?
I hate you, Elmer, and your damn super-sized glue sticks.
At least for the next few weeks anyway.
I need an extension. Perhaps a week. Or four.
How was Leo in The Great Gatsby anyway?
I should have emblazoned the words
carpe diem
with teal glitter marker on my forearm to remind me to be more present this summer.
I didn't make a rainbow loom bracelet to remind me.
Seize the day alright.
Perhaps that idea combusted the night I discovered a desiccated grilled cheese sandwich perched in my chandelier sconce. And a pool of chocolate syrup at the bottom of the Waterford crystal goblet waiting to be delicately washed in my cluttered sink.
Or maybe when I thrust my foot into a creamy dollop of Icy Hot squirted in my shoes.

Or was it during the text informing me of an unfortunate asymmetrical haircut. With safety scissors.

Perhaps it was lost after the vinegar and baking soda experiments. Both indoor and outdoor. Both balsamic and distilled.

No one should ever have to google "how to remove permanent marker from leather car seats" or "how to remove a Danimals yogurt container from a toilet."


With its urgent calls for wide-ruled marble composition books, new football gear and Halloween costumes, August has become summer's pushy stepsister.
Let's not even discuss candy corn sightings.
I admit I blew it for July--but I'm on to you, August.
During these last three weeks, I'm embracing the pandemonium. Even if it means refereeing brotherly fights or coercing my boys to come back inside after they've devoured the last bites of summer's deliciously messy days.
There will always be graying grout, grimy laundry and overstuffed closets.
There will always be unattended emails and unreturned forms.
There will always be tomorrow.
Muddy, sticky, bulldozed and bone-weary--my boys have learned to wring out every last defiant drop of summer's sweet nectar.
I could--and should--learn a lot from them.
They are the crafters of velvety memories--meticulously stitched from their blissful surrender to the here and now.
In all their spirited mischief, they are achingly present in those perfect water-balloon and firefly moments. For them, there is never enough baseball, swimming, frolicking. And living.
They are the keepers of gold-flecked moments that will shine throughout their adult lives, inciting side-splitting laughter for years to come.
No mother will ever become wistful for the Cloroxed floors of irrecoverable summer afternoons, but instead for the jubilant chaos that once filled her house. The chaos that we will all somehow grieve one day.
So August, I've shredded that Halloween flyer. And the ridiculous Christmas ornament one, too.
Until further notice, I've put Crayola, Ticonderoga and Swingline on hold.
Eventually I'll get to color-coding each of my son's school, football, soccer, karate and CCD schedules.
Eventually.
Instead, I've decided to cling to what's left, like autumn's last yellowing leaf before its inevitable descent.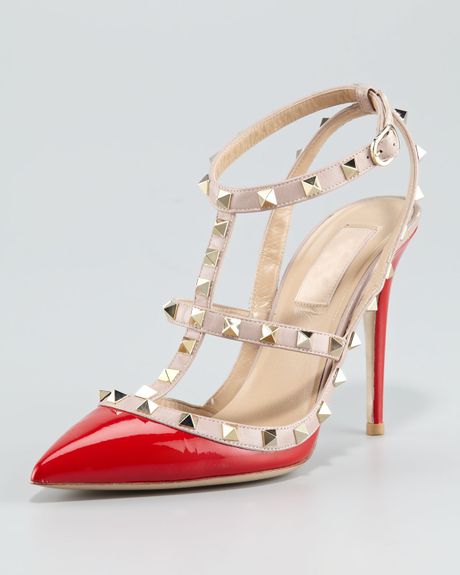 August has me seeing red!
I adore these fabulous patent leather sandals.
Rockstud by Valentino
I have three weeks left of water-balloon wars, backyard races and silly movies on a lazy afternoon.
Ambitious, over-achieving September isn't going anywhere just yet.